Mrs. Yanson is a character in Little Witch Academia. She is a witch from Finland, owner of a magic item shop and Lotte's mother.
Appearance
Edit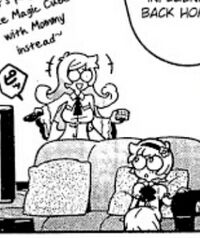 Mrs. Yanson is very similar to her daughter, except for being a little shorter than her. She has white skin, blue eyes and glasses identical to Lotte's. She wears a blue tunic that covers her entire body, a red shrug and a long dark purple veil on her head.
In manga, she was tall, had a slighty busty body, and had different hairstyle.
Personality
Edit
She is a sweet and kind woman. She is very respectful and considerate with her family and guests. It seems to be something jealous, separating her husband from his neighbor that Akko unintentionally put in a position where they kissed, despite the three being almost immobilized by the Greenman Disease.
Background
Edit
Relationships
Edit
Voice Actors
Edit
For more images related to Mrs. Yanson, see the image category Category:Images of Mrs. Yanson
Ad blocker interference detected!
Wikia is a free-to-use site that makes money from advertising. We have a modified experience for viewers using ad blockers

Wikia is not accessible if you've made further modifications. Remove the custom ad blocker rule(s) and the page will load as expected.